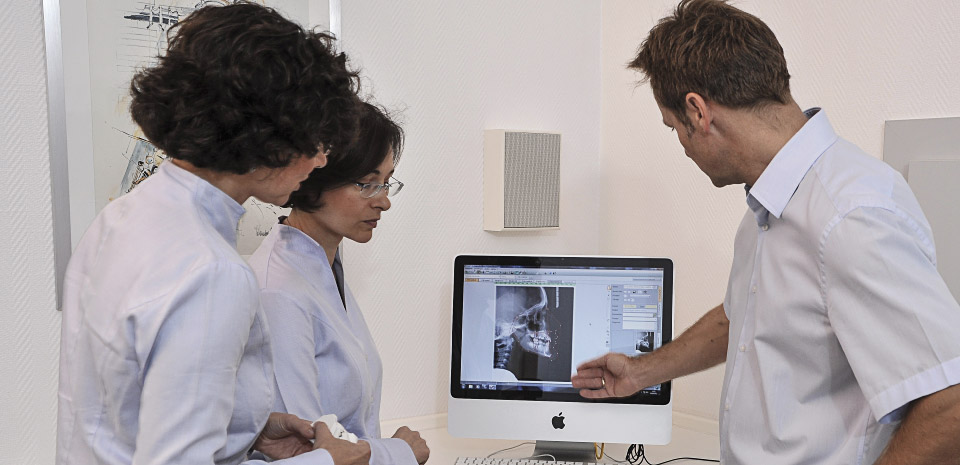 We enjoy what we do
We advise our patients at great length before and during treatment, enabling them to make informed and responsible decisions. We take the time to answer all questions and explain every step of the treatment in detail. Our success is based on trust.
Each individual therapy is holistically designed. We can use orthodontic therapy to improve not only the position of the teeth and temporomandibular joints and the ability to chew, but also speech pronunciation and facial profile.
The optimally designed treatments, latest techniques, as well as our many years of experience and ongoing professional training guarantee the best results for our patients.
Still, our working philosophy always applies: "As much as neccessary—as little as possible!" By beginning treatment at the right moment we can achieve significantly shorter treatment times.
In order to ensure consistent and reliable treatment, each orthodontist is responsible for his or her own group of patients. As orthodontists we work closely together so that all of our patients may benefit from our collective expertise and many years of experience.
We make it our duty to collaborate with other specialist physicians. Specially trained speech pathologists support our work in tongue dysfunction. Temporomandibular joint treatments are followed by a specialist osteopath.
We consider it a priority to ensure that all our employees not only possess the right professional skills, but are also able to provide personalised, service-minded patient care in a relaxed and friendly atmosphere.
Our clinic was founded in 1993. Since then we have been working regularly with over 70 dental practices. Many of our colleagues have entrusted us with the treatment of their own children.
Is there any better proof of confidence?